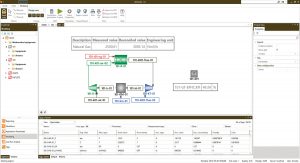 The modeling capabilities of ValiStudio allow creation of all the different units and streams needed for an accurate representation of the process. These units can be grouped in separate Process Flow Diagrams for a clear visualization of the process.
The modeling toolbox contains all the different kinds of process equipment (pumps, heat exchangers, etc.).
A thermodynamic library gives access to a list of chemical compounds with their respective thermodynamic parameters for accurate calculations. VALI is also compliant with CAPE-OPEN.
Process measurements are introduced through tags, with their respective uncertainties.
Additional equations can be implemented through an internal programming code called FLEX, allowing complex performance calculations.